Articles about fringe Hair
You can use bangs (fringe) to help frame your face, accentuate your eyes and draw attention to your best features. There are many different types of bangs out there to suit all face shapes and hairstyles. Bangs are a great way to update your hairstyle with minimal risk. If you have long hair and are thinking of going short but too scared to take the plunge why not try a heavy blunt fringe first that way you can change your look drastically while still keeping the hair length.
Wispy Bangs:
This is the most minimal less dramatic style of bangs. You cut a small portion of hair to lightly drape over your forehead. It is easy to grow out if you do not like it. This hairstyle suits most face shapes.
Very Short Bangs:
This type of bang suits those with fine hair and should probably be avoided by those with thick unruly hair as it will be hard to tame. It is great for disguising large foreheads.
Blunt and Heavy:
This is the best style to bring out your eyes as it really draws attention to them. If you have a long face wear it round and soft and if you have a rounder face shape go for a sharper blunter cut.
Side Swept Fringe:
This fringe falls over one side of your face over one eye creating a mysterious effect. Looks great on oval, heart shaped, or square faces and it is great at minimising prominent features. Recommended to those with thick to medium textured hair.
Layered Feathered Bang
Bangs that have been razored or cut into, usually worn quite short. This style looks amazing with shorter hairstyles and on those with fine features.
Have a look a this extensive hairstyle picture gallery for examples of different types of bangs (fringes)
For more Bangs / Fringe Picture Galleries check out:
The emo trend is bigger than ever, especially for the teenagers out there. The teen population is divided into those that love the emo look and everything the subculture encompasses, those who loath it and those that could not give a diddly squat about it. This post is for those of you out there who love emo hairstyles on boys or for boys out there looking to get an emo haircut, prepare to be inspired!
Emo girls go here: Cute Emo Girls
For more hot emo boy images go here: cute emo boys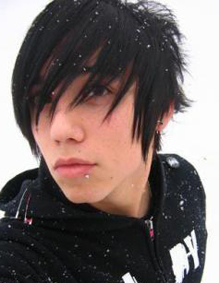 If you are looking for gorgeous pink scene queen hair check out this video: Scene Hair
Emo girls and Scene girls, no matter what label you give these beautiful creatures one thing stands true: They have some of the coolest, edgiest hairstyles of today. Emo girls like emo boys; use emo hairstyles amongst other things to help express their individuality, creativity and feelings.
Emo Hairstyles do take a lot of time to maintain. You will probably have to see your stylist every 2 to 3 months to get your haircut maintained, alternatively you can just let it grow out but it won't be the same look you were going for originally considering that the side fringe pretty much needs to be about 3 to 4 inches long for the right effect.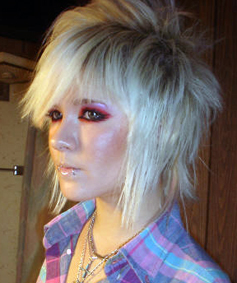 If you are looking for gorgeous pink scene queen hair check out this video: Scene Hair