Latest Hairstyles from the layers Hair section
Are you tired of lanky hair that just hangs? Do you have fine hair and want to spice it up by volumizing your hair? Big volume hair can look very sexy and glamorous on a night out. It adds femininity and sex appeal. Big hair in the right circumstances can look amazing and be sure to turn heads anywhere you go.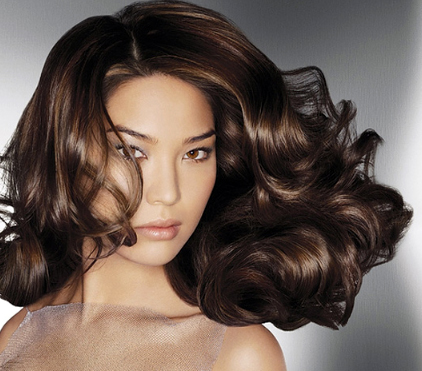 How to Volume Hair Tips:
A few tips for adding volume to your hair for that gorgeous hair with volume look.
For hair with volume the type of haircut you have really matters, ask your stylist for some long layers to be cut into your hair. Layers are great for volumizing hair.
Use hair products (shampoos, conditioners, intense masques, creams) that are made for adding volume to your hair. Usually these products will contain keratin, collagen or soy lecithin.
Apply mousse or creams with your head down scrunching up the hair. Mousse gives the hair more volume but it is important to just use a small amount. Too much mousse will make the hair heavy.
And most importantly: dry your hair using a big round brush and a hair dryer. Dry the hair in sections starting from the bottom of the head.
Volume  Hairstyle Picture Gallery:
You can use bangs (fringe) to help frame your face, accentuate your eyes and draw attention to your best features. There are many different types of bangs out there to suit all face shapes and hairstyles. Bangs are a great way to update your hairstyle with minimal risk. If you have long hair and are thinking of going short but too scared to take the plunge why not try a heavy blunt fringe first that way you can change your look drastically while still keeping the hair length.
Wispy Bangs:
This is the most minimal less dramatic style of bangs. You cut a small portion of hair to lightly drape over your forehead. It is easy to grow out if you do not like it. This hairstyle suits most face shapes.
Very Short Bangs:
This type of bang suits those with fine hair and should probably be avoided by those with thick unruly hair as it will be hard to tame. It is great for disguising large foreheads.
Blunt and Heavy:
This is the best style to bring out your eyes as it really draws attention to them. If you have a long face wear it round and soft and if you have a rounder face shape go for a sharper blunter cut.
Side Swept Fringe:
This fringe falls over one side of your face over one eye creating a mysterious effect. Looks great on oval, heart shaped, or square faces and it is great at minimising prominent features. Recommended to those with thick to medium textured hair.
Layered Feathered Bang
Bangs that have been razored or cut into, usually worn quite short. This style looks amazing with shorter hairstyles and on those with fine features.
Have a look a this extensive hairstyle picture gallery for examples of different types of bangs (fringes)
For more Bangs / Fringe Picture Galleries check out:
Here are some great celebrity layered hairstyles
Model Elle Macpherson is mainly known as "The Body" but she also has gorgeous long layered hair
High School Musical star Vanessa Hudgens has stunning long brunette hair cut in layers with some caramel streaks.
Chloe Sevigny is not just an indie TV and film star, the beautiful Big Love actress has amazing long blonde layered hair.
Singer Carrie Underwood and her beautiful long blonde layered hairstyle.