Articles about hairstyles Hair
Curly hair styles create a sense of charm and youth for those who know how to wear it well. It is important to realize that not all haircuts are great for those with curly hair and straight blunt cuts will create a bulbous mushroom effect as will hair that is cut too short. i think many of us with the curly hair have gone through this in our early teens (looking back at high school photos for me is not always a pleasurable experience, mushroom head anyone?)
To have your natural curly hair looking shiny, glorious and up to date it is best to wear your curly hair from medium length to long and get long layers cut into the hair. When you go to the hairstylist be weary of hairdressers that send you straight to the washing basin before observing your hair and the natural directions your curls take. The directions of your curls must be taken into consideration before being able to cut the right layers into your hair.
The emo trend is bigger than ever, especially for the teenagers out there. The teen population is divided into those that love the emo look and everything the subculture encompasses, those who loath it and those that could not give a diddly squat about it. This post is for those of you out there who love emo hairstyles on boys or for boys out there looking to get an emo haircut, prepare to be inspired!
Emo girls go here: Cute Emo Girls
For more hot emo boy images go here: cute emo boys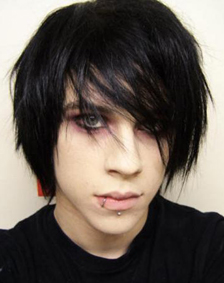 If you are looking for gorgeous pink scene queen hair check out this video: Scene Hair
Emo girls and Scene girls, no matter what label you give these beautiful creatures one thing stands true: They have some of the coolest, edgiest hairstyles of today. Emo girls like emo boys; use emo hairstyles amongst other things to help express their individuality, creativity and feelings.
Emo Hairstyles do take a lot of time to maintain. You will probably have to see your stylist every 2 to 3 months to get your haircut maintained, alternatively you can just let it grow out but it won't be the same look you were going for originally considering that the side fringe pretty much needs to be about 3 to 4 inches long for the right effect.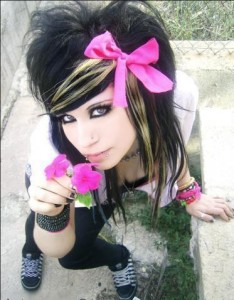 If you are looking for gorgeous pink scene queen hair check out this video: Scene Hair