Articles about emo girls Hair
Girl Emo Hair is really popular with teenagers all over the world. On mynewhair.info we have various post and picture galleries dedicated to this awesome style and subculture.
Here is yet another emo hair gallery for girls with more great styles, haircuts and colors!
Girl Emo Hair Gallery
Bring out the ice queen in you and go for blue hair!  You can go for bright royal blue, greeny blue, turquoise or pale blue. The possibilities are endless. Blue hair is a bit tougher to achieve a vibrant result than pink hair but it can still be done.
How to Dye Your Hair Blue
For most vibrant results you need to bleach your hair. The lighter the hair the brighter and lighter the blue. If you put the blue dye on natural hair then results will very but it won't be as bright and tends to turn green quite quickly. If you have naturally blonde hair the blue can look great but it will fade very fast. Bleached hair is much more porous so it picks up color better than natural virgin hair.
Here is a Hair bleaching guide to help you get that part right.
Once you have the desired hair base color you want you just apply your chosen vibrant pack of rad blue hair color and follow the instructions to get your gorgeous pixie, mermaid, etheral ice queen blue hair!
Blue Hair Dye Brands:
You can use Special Effects or Manic Hair Dye.
We Want To Hear from you!
If you have dyed your hair blue please write in the comments section your experience.
What brand did you use?
Was your hair bleached?
Was was the result?
Want To See More Blue Hair Pictures?
If you are looking for the ultimate hair colour resource, then you'll love this: go here to see hundreds more blue hair color pictures! This site is great because people send in their hair dye pictures and tell you how they did it. It's a great site for learning how to get great coloured hair!
Blue Hair Color Picture Gallery:
Emo girls and Scene girls, no matter what label you give these beautiful creatures one thing stands true: They have some of the coolest, edgiest hairstyles of today. Emo girls like emo boys; use emo hairstyles amongst other things to help express their individuality, creativity and feelings.
Emo Hairstyles do take a lot of time to maintain. You will probably have to see your stylist every 2 to 3 months to get your haircut maintained, alternatively you can just let it grow out but it won't be the same look you were going for originally considering that the side fringe pretty much needs to be about 3 to 4 inches long for the right effect.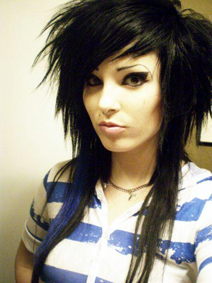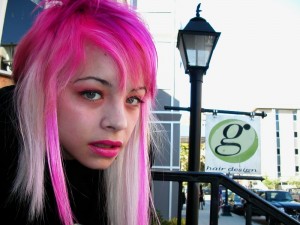 If you are looking for gorgeous pink scene queen hair check out this video: Scene Hair