Latest Hairstyles from the Curly Hair section
How to Curl Your Hair at Home with Some Rags
You will need clean old shirts or old sheets to make the rag strips out of.
Cut sheets into strips that are about 2.5 cm(1 inch) wide and 16 cm (6 inches) thick. Make the stips longer if you have really long hair.
Cut about 40 strips.
Wash your hair and let in dry naturally to the point where it is just a little damp.
Divide your hair into 1 inch sections (probably need some hair clips to hold your other hair out of the way)
If your hair is hard to curl you can add some hairspray.
Take one of the strips and lay it along side a 1 inch section of hair.
Wrap the hair around the stip in a spiral, make sure you leave just enough cloth at the bottom so as to tie the ends together
The tighter the hair is wrapped around the rag the tighter the curl.
Sleep the night with the rags in place
Next morning carefully unwrap and ta da! Amazing spiral curls.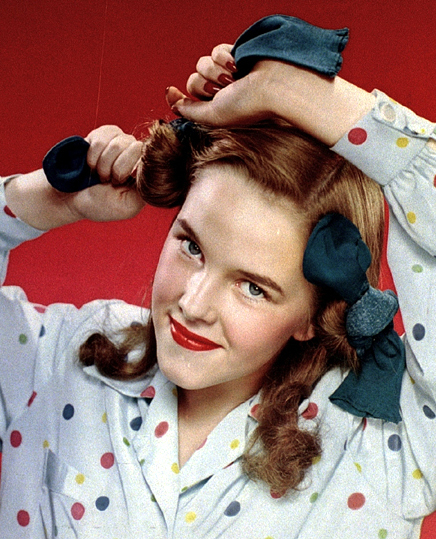 Curly hair styles create a sense of charm and youth for those who know how to wear it well. It is important to realize that not all haircuts are great for those with curly hair and straight blunt cuts will create a bulbous mushroom effect as will hair that is cut too short. i think many of us with the curly hair have gone through this in our early teens (looking back at high school photos for me is not always a pleasurable experience, mushroom head anyone?)
To have your natural curly hair looking shiny, glorious and up to date it is best to wear your curly hair from medium length to long and get long layers cut into the hair. When you go to the hairstylist be weary of hairdressers that send you straight to the washing basin before observing your hair and the natural directions your curls take. The directions of your curls must be taken into consideration before being able to cut the right layers into your hair.
Japanese Hair Straightening – Thermal Reconditioning
Curls, movement, waves and body… no matter how hard hair stylists try to tell us that they are in fashion, the majority of women still dream about straight hair. I am talking about the kind of straight hair that is wash and go, not one that requires hours of brushing with a hairdryer or ironing with a hair straightener. The type of hair that laughs in the face of humid weather. The big cosmetic companies know of our plight and have infinite hair products on the market that promise to make our hair sleek and smooth and straight, but rarley do the job alone without the help of heat appliances if at all.  So then we start thinking about permanent hair straightening, the perm of our times… Thermal Reconditioning a.k.a Japanese Hair Straightening, ionic retexturing, rebonding, yuko system and bioionic straightening.
How does Japanese Hair Straightening work?
Protein and heat is used to restructure the hair bonds covering the hair in an anti frizz film that leaves it smooth and silky. The treatment takes between 3 to 8 hours to achieve and will leave your hair wonderfully straight for between 3 to 8 months. The beauty of this process is that you don't run the risk of ending up with porous or kinky strands. You should not wash your hair right after the treatment; wait for at least 2 – 5 days. The result is smooth, pin straight, silky hair without the need of dryers and you can give up your GHD to more unfortunate friends.
Things to be Aware Of When Getting Your Hair Straightened
It is very important to go to a hair stylist that comes highly recommended for this procedure as the end result is dependent on their level of skill. You should really do your research and ask around. Thermal Reconditioning will cost you between $300 to $900 with hair length being the deciding factor on price. Make sure that you get a free consultation from your stylist of choice as not all hair types are suitable. This includes some hair that has been colored, lightened hair (sorry you girls out there with platinum blonde), hair that has been straightened already with a sodium relaxer, henna treated hair, previously chemically treated hair permed curly or wavy and African hair (this hair is very fragile and cannot tolerate the heat involved in the process).
Looking After Your New Straight Hair!
Once you have had your hair straightened you have to take extra care of it by applying deep conditioning treatments 1-2 times a week to avoid dryness. Getting your regrowth done depends on how curly your hair is and how long you feel you can go without it. If your hair is quite long you can go longer as the long hair weighs down your roots.
Following are some examples of Japanese Hair Straightening: