Latest Hairstyles from the hair care Hair section
Wavy, curly or straight, dark hair is more fragile than it appears. One of the disadvantages of being a brunette is the low production of sebaceous glands that causes the hair to become dry and delicate. What are the consequences? As black pigments reflect light naturally, if the hair is well hydrated it will always looks radiant. If not, the color fades and hair looks dull and dry.
Dark Hair Maintenance: Shampoo
Wash your hair two or three times a week with a special shampoo formulated for dark hair nutrition. For example; Shampoo John Frieda brilliant brunette. Its natural extracts of cocoa beans and powder pearl illuminate both chocolate tones as deep blacks.
Shampoo hair and rinse it with warm water. Apply a hydrating cream from the middle of the hair to the tips. Let it act for at least 10 minutes, the time required for the nutritional assets of the cream to deeply penetrate the hair.
Rinse it with warm water again and end with cold water rinse to close the hair fiber and give luster to the color.
To avoid brittle hair, avoid using hair dryers or hot plates. If you tend to straighten your hair, apply a protective and nourishing serum from the middle of the hair to the ends just before using the hair straightener.
Dark Hair Maintenance: Haircare
Once or twice a week give your hair a nourishing mask based on argan oil or walnut oil. Apply it throughout the hair and leave it in for at least 15 minutes with your hair wrapped in a warm towel.
Massage the scalp regularly and help the production of sebum.
Homemade Recipes for Dark Hair
-Color-enhancing mask: Make a tea with a walnut or willow leaves in a liter of water. Filter the brew and apply it to wet hair after washing.
-Hair Lightening shine: make an infusion with a bunch of lime, rosemary and lavender in a quart of water. Filter the brew and add a tablespoon of cider vinegar. Apply it on wet hair, leave in and rinse.
Are you tired of lanky hair that just hangs? Do you have fine hair and want to spice it up by volumizing your hair? Big volume hair can look very sexy and glamorous on a night out. It adds femininity and sex appeal. Big hair in the right circumstances can look amazing and be sure to turn heads anywhere you go.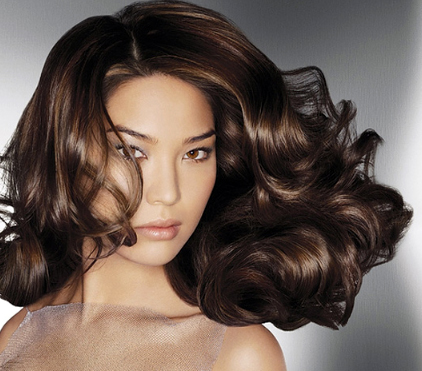 How to Volume Hair Tips:
A few tips for adding volume to your hair for that gorgeous hair with volume look.
For hair with volume the type of haircut you have really matters, ask your stylist for some long layers to be cut into your hair. Layers are great for volumizing hair.
Use hair products (shampoos, conditioners, intense masques, creams) that are made for adding volume to your hair. Usually these products will contain keratin, collagen or soy lecithin.
Apply mousse or creams with your head down scrunching up the hair. Mousse gives the hair more volume but it is important to just use a small amount. Too much mousse will make the hair heavy.
And most importantly: dry your hair using a big round brush and a hair dryer. Dry the hair in sections starting from the bottom of the head.
Volume  Hairstyle Picture Gallery:
Is your hair starting to look like first thing in the morning before your first cup of coffee you have stuck your fingers in a power socket? yes you know what I am talking about, the most horrible, most dreaded, most deplorable frizzy hair!
The causes of frizzy hair are:
Lack of essential oils in the hair
Lack of moisture in the hair
Lack of protein in the hair
Long hair, namely any hair that has been around for a long time passing the neck line.
Great Products to Combat Frizzy Hair
Following is a review of some lesser known hair products that can help combat frizzy hair. It is important to not add heavier products to frizzy hair like gel or mouse, instead stick to serums and mists. Always look for products specifically designed for anti-frizz or dry brittle hair.
Kerastase Oleo Relax Serum
This is part of the Kerastase Oleo Relax range. The Oleo relax range is designed to help fix the problem of dry, frizzy, thick hair and the serum is their number one fighter of frizz. After using this product your hair will feel silky and soft and you will be able to pass a comb or brush through it easily. These products do not come cheap at all, but they are totally worth it. The bottle goes a long way as you only need to use a couple of drops in your hair after every wash. This product is great for any type of hair, especially good for those girls out there with long thick curly hair.
Alberto VO5 Miracle Mist
Great product for untangling frizzy hair after it has been washed. It helps prevent breakage, use this before drying with a hair dryer or using a flat straightening iron. It helps tame frizzy hair and is better for those who will straighten the hair. If you just spray it on and leave it you probably will not find that it removes the frizz completely. This product has quite a strong fragrance.
Terax Miele Shampoo
This product is very hydrating for dry, brittle, frizzy hair. At the very least it won't further dry out your hair. This product does not have a very strong smell, it is quite pleasant and it helps leave your hair feeling soft. It is more on the expensive side but the bottle contains a generous amount and will last a long time