Latest Hairstyles from the Red Hair Hair section
Multidimensional hair color with chunks and streaks highlighted in blonde and lowlights in red, coppery browns and blacks.
Medium length hair with big blonde chunks of color mixed in with red pieces.
Bleached blonde above and red beneath.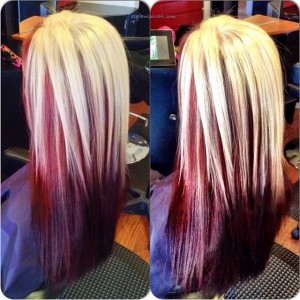 Be tempted with gorgeous long tresses dyed stunning/vibrant reds (from bright red, deep red, dark red to faded red and everything else in-between) and accents in blonde from fine streaks to big chunks – loving the red and blonde hair look!
Gorgeous red hair cut into long layers.